Minute Maid Back To School Deal


Het nieuwe schooljaar staat voor de deur en dat betekent: tijd voor de Minute Maid Back to School Deal! Om het nieuwe schooljaar in te luiden hebben wij in geselecteerde supermarkten een te gekke actie op Minute Maid!
Krijg geheel GRATIS een leuke Minute Maid notebook of beker bij aankoop van een 6-pack Minute Maid Fruit Cooler 500 ml. Deze Minute Maid Fruit Cooler is verkrijgbaar in de smaken "Orange" en "Tangerine".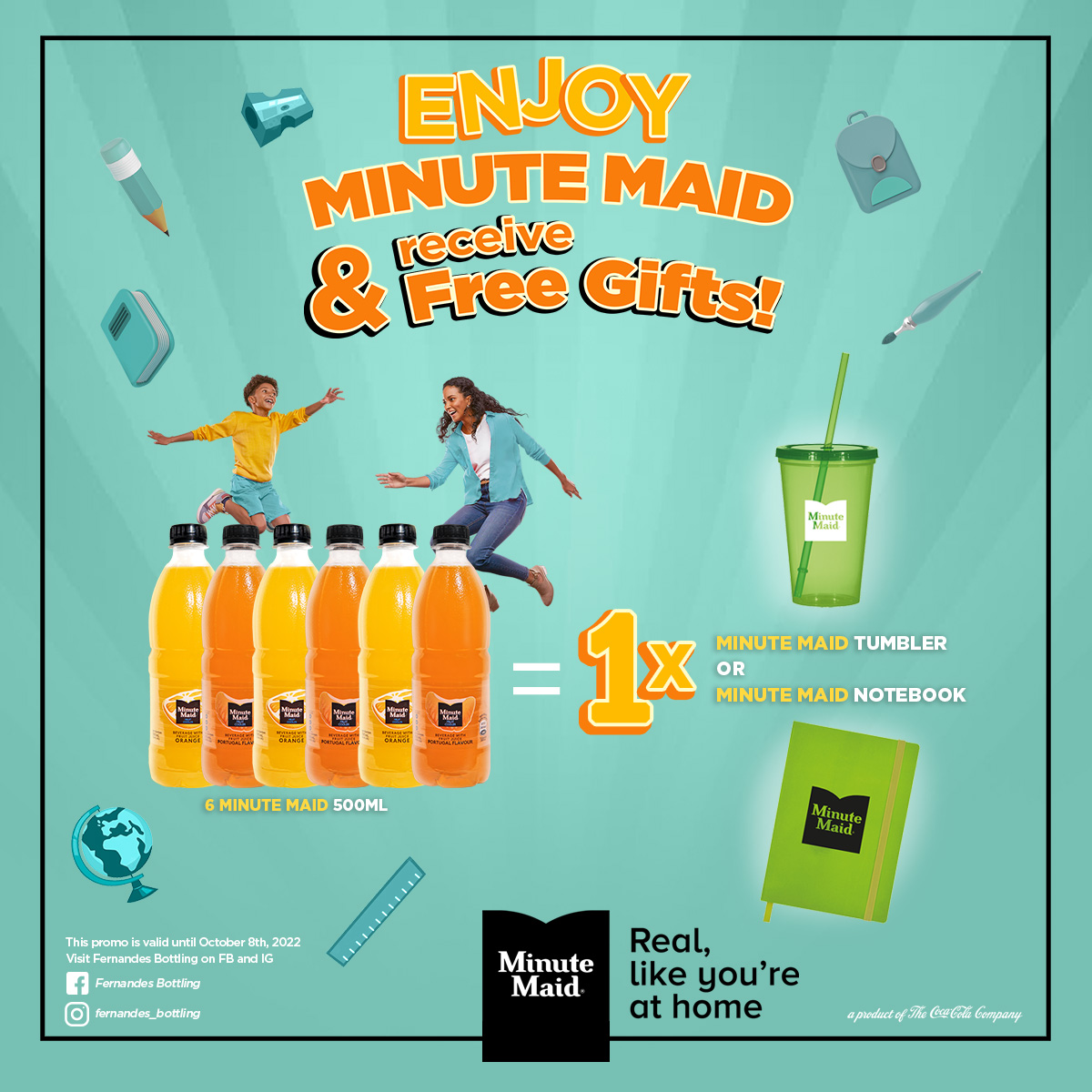 Deze aktie is geldig tot en met 08 oktober 2022, zolang de voorraad strekt in de volgende winkels:
| | | |
| --- | --- | --- |
| Winkel | Adres | District |
| Wang Wang Supermarkt | Hendrikstraat | Paramaribo |
| Hui Feng Supermarkt | S.W. Churchill/Grensweg 2 | Wanica |
| Flamingo Supermarkt | Kepplerstraat 22 | Paramaribo |
| Jin Du Supermarkt | Commisarisweytingweg 252 | Wanica |
| Andy Supermarkt | Oost-West Verbinding 209 | Commewijne |
| Geff's Supermarkt | Welbedacht Km 32 | Commewijne |
| Fu Yuan Supermarkt | Koningstraat 35 | Paramaribo |
| Hong Fa Supermarkt | Helena Christinaweg 212 | Wanica |
| Zhengs Warenhuis | Indira Ghandiweg 610 | Wanica |
| Fu Ju  | Indira Ghandiweg 1009 | Wanica |
| Liang Liang | Martin Luther Kingweg 299 | Paramaribo |
| Zhao Wei Supermarkt | latourweg 37 | Paramaribo |
| Kai Du supermarkt | S.W. Churchillweg 985 | Wanica |
| Fajalobi Supermarkt | Fajalobistraat 39 | Paramaribo |